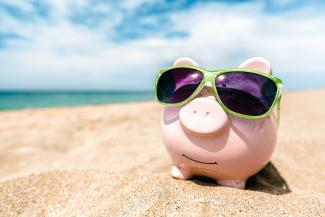 13 Clever Ways to Save While Enjoying Yourself This Summer
A financial nip here and tuck there this summer could add up to an extra day of summer vacation, a fatter holiday present-buying budget, or even some padding to your client's account for six months of living expenses.
Summertime doesn't have to mean making a hard choice between living life to the fullest and pushing credit card spending to the limit. Sure, hot homes will need to be cooled, lawns will need to be mowed, and ice cream will need to be eaten, but with a bit of extra effort now, people everywhere can surely find plenty of ways to eliminate the waste that tends to increase with the outside heat.
We spoke with some personal finance experts to round up some of the hottest tips for cooling down your spending this season without sacrificing summer fun. Here are the most common money wasters to avoid as you head outdoors.
A splurge at an ice cream parlor may not look so delicious when compared with the same treats bought for less at a grocery store and enjoyed in your yard.
1. Overpaying for ice cream
Heat is uncomfortable, but too often we use it as an excuse to indulge in behaviors we have no trouble resisting during cooler times of year. Case in point: indulging in pricey ice cream.
"Going to one of those fancy ice cream places usually means you get your fancy cup and then go out and eat it while overlooking a parking lot," says Patricia Seaman, senior director of the National Endowment for Financial Education, an organization dedicated to helping American families become more financially savvy. "Most of the time you could just go across the street to the grocery store and get the same thing for much less."
So next time you feel the urge to indulge, consider reaching into the freezer and getting your fix in your own backyard.
2. Using the wrong lawn mower
April showers bring May flowers, and that means they need to be mowed down, eventually. An LA Times blog recently reported that Orange County's Air Quality Management District equates using your gas-powered mower 45 minutes each week to driving 22,000 miles in a car. (And one hour on the gas mower produces as much pollution as a 100-mile drive.) With gas prices where they are, the amount you will spend to do that is mind-boggling.
Thankfully, we found that push mowers can handle most moderately sized lawns while giving the pusher a nice workout, and an extra 100 bucks or so could get you a battery-powered lawn mower, cutting out extra fuel costs once and for all.
3. Failing to plan your vacation
For pretty much everyone, summer is synonymous with traveling, as the nice weather provides an excuse to take some much-needed R&R away from home. Taking a vacation isn't a money waster, but it can be if you fail to plan accordingly.
Paul Markowich, a certified financial planner at Philadelphia-based Firstrust Financial Resources, breaks down how a little planning can go a long way.
"July 4 is seven weeks away, and Labor Day is about 15 weeks away, so if you plan a trip and figure out the budget early enough, then you can set easy saving goals per week," he says. That way, "you don't wait until the last minute and find that you don't have enough saved, which will cause you to use your credit cards and pay more for the trip."
Short-term budgeting is a great strategy to follow no matter what time of year, but summer travel provides a concrete goal with a predictable timetable. Don't miss the opportunity to do some basic financial planning.
4. Paying too many entrance fees
There are a million things to do to get out of the house on those beautiful summer weekends, and anyone who lives near an amusement park or water-slide complex will probably be drawn there to spend a fun-filled day outside. What most people don't know, though, is that a season pass to the local attraction isn't just for the fanatics who go all the time. Seaman, who has teenage children, knows the benefits.
"One of my kids came to me and asked for a season pass to the local amusement park," she remembers. "I looked into it, and it only cost about one and a half times the daily rate—so it paid for itself in two visits."
This money-saving strategy does not come without caveats, though. Make sure the pass is used at least twice (or more, depending on how the rates compare), and then, as Seaman warns, "keep track of your spending at the park, because those snacks can be so expensive."
5. Using the wrong air conditioner
Unless you live in a cave, rising temperatures mean rising AC bills. But chances are you're paying more than you need to to cool your house.
Anyone not using an Energy Star air conditioner, one that has earned the Department of Energy's approval for energy efficiency, is already losing the battle. You can find an Energy Star-certified air conditioner for $100 to $200, and the increased efficiency will save you more than $60 in electricity costs during its lifetime.
Beyond that, many homeowners buy into the mistaken notion that bigger equals better when it comes to cooling power. What many don't know is that an AC unit achieves two purposes: it cools, but it also dehumidifies to get the indoor environment dialed in just right. A larger unit will cool the space and shut itself off faster than it can remove the ambient humidity, an inefficiency that will make the unit work harder than it needs to.
6. Paying too much for landscaping
In some neighborhoods, a mowed lawn isn't quite enough to get a house ready for summer. The good weather and prime planting season is a great reason to do some landscaping to spruce up your property, but there are much cheaper ways to accomplish the task than paying a professional landscaping company to do all the work.
Seaman, who undertook a landscaping project a few summers ago, found ways to save on the cost of materials, planning, and labor. In terms of materials, she suggests that anyone preparing such a project "look for nearby construction sites that are giving away fill dirt and rocks for free—usually they will put out a little sign." For tools, she recommends a number of ways to borrow what you need. "You never need to buy that post-hole digger yourself; you can usually rent one at Home Depot, or there are some community-based options like a tool lending library or organizations of people that share their tools."
For planning and labor, Seaman took advantage of the local university, which she found offered courses in landscape management. "It's kind of like beauty school," she says. "The students could take you on as a class project, and they learn about all the flowers and plants that do well in the area, which I had no experience with." The team of students she worked with collaborated with her to design the project, choose the right plants, and diagram the specific locations of each one, all for free.
7. Paying too much for child care
Parents dread the summer for the effect it has on their wallet. While our collective tax dollars pay to keep the little ones occupied at school during the other nine months of the year, the summer months require parents to find new ways to entertain their children.
Most often this is done by sending them to summer camp, but with costs rising into the thousands of dollars, many parents can't afford the expense. Thankfully, they have other options: sponsored camps run by such groups as the YMCA or Boy Scouts tend to be much less expensive, says Wendy Sachs, editor-in-chief of care.com, a website that serves as a clearinghouse for different care options. She also recommends a number of ways to collaborate with other parents to keep costs down while keeping kids occupied, including nanny shares and care co-ops.
For a full breakdown of cheaper summer child care options, check out this in-depth look at what parents have to choose from.
8. Paying too much for nature
There are national parks in every state, and many cost absolutely nothing to enjoy. Even the ones that do charge entrance fees offer visitors the option of buying a season pass that will be valid for every park in the state, giving people a wealth of options to take a vacation or camping trip without flying to the jungles of Brazil.
"Summer is all about getting outside in the nice weather and taking advantage of that by camping or backpacking, and season passes to state parks will typically pay for themselves after a few visits," Seaman explains. "It's easier because there are multiple parks to spread those visits across."
Exploring your local park system can also help you save in a different way, Seaman points out: "I've noticed that picnicking, hiking, and camping makes time slow down, because you're not near electronics. You feel like your weekend lasts longer, so that's a nice byproduct; you can save time as well as money."
9. Eating the wrong food
Despite the growing number of farmers' markets around the country, some people just don't alter their shopping habits no matter what time of year it is. Plus, a lot of the people near farmers' markets sometimes assume that fruits and veggies on sale there are more expensive than their grocery-store counterparts, but when a product is in season, the big harvest drives prices down.
Seaman makes sure to take advantage of this: "In my family we have something called the 'corn dinner'—we get fresh corn at the height of the summer for like 10 cents an ear, and we'll all just eat two to four ears, and that will be our dinner. We do it once or twice a week, and we miss it when it's gone."
Seaman is careful to point out that such habits should be exercised in moderation to ensure proper nutrition, but feeding your whole family for $3 once a week is a summer bargain that can be had with a variety of different fruits and vegetables in season.
10. Planting the wrong garden
People with property often plant and maintain gardens as a hobby or to beautify their homes, but not all realize gardening can be a great way to save cash too. Seaman calls it "grocery gardening," and it involves simply planting the things you eat instead of flowers.
"I plant what is most expensive at the grocery store," she says. "I don't plant corn, because it's cheap anyway. I plant at least half of my garden with snow peas, because they cost $4 a pound and they produce all season long. I also plant rhubarb; the price goes down in the summer, but it's still expensive, and there are a bunch of things I make with it."
If you're going to create a garden or already have one, there's no reason it shouldn't help your wallet as well as your health.
11. Paying too much for gas
Many drivers out there think they have no control over gas prices, but as MainStreet has found, there are plenty of ways to cut down on your driving expenses this summer.
Markowich, the financial planner, is a big fan of GasBuddy, a smartphone app that he uses to save cash every time he fills up his tank.
"Apps like Gasbuddy will tell you the price of gas wherever you are," he says. "Some are 15 to 20 cents cheaper than others, so just checking that once a week will save you a bunch if you add up every tank."
12. Letting food go to waste
Letting food rot in your refrigerator is a common money waster throughout the year, but the problem is especially acute in the summer if you don't change your shopping habits. In addition to visiting your local farmers market, Markowich recommends shopping more frequently than you would at other times of year.
"Shop weekly—if you plan for a shorter time, you are much more likely to use that food and not waste it," he says, warning that "you may shop like you are eating at home as usual, but then your friend invites you to a barbecue or a picnic, so you'll probably eat at home less than you think."
13. Keeping your junk
Not taking advantage of easy ways to make money is equivalent to actively wasting it, and Markowich thinks anyone who doesn't take advantage of a spring-cleaning garage sale is missing out on some big bucks that can be used for other summer goals: travel, landscaping, ice cream, whatever.
"Jump-start your summer savings with a spring-cleaning garage sale," he says. "Clean out your closets and maybe team up with neighbors, and you can maybe make $500 to $1,000."
In addition to the cold hard cash you can earn from the sale, Markowich points to some secondary benefits that can help take some pressure off your budget.
"By going through your closets now you may find things you didn't even know you had that can save you from things you might buy in the summer," he says. That means clothes, flip-flops, or sporting equipment you may have forgotten about from years past.
Securities offered through Securities Service Network, LLC. Member FINRA/SIPC. Fee based services are offered through SSN Advisory, Inc., a registered investment advisor.