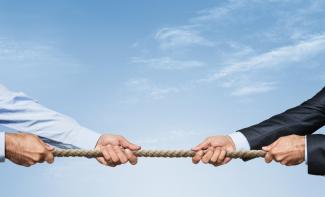 Bah Humbug to the Fiduciary Rule
Bah Humbug to the Fiduciary Rule
Jay L. Gershman, Retirement Visions LLC, West Hartford
Over the past year, much has been written about the fiduciary rule, a legal requirement administered by the government to help ensure that financial advisors work in the best interests of their clients regardless of their own potential compensation. I have to admit that from the very beginning I didn't care for this basic premise. I mean really, shouldn't all advice - whether paid by commission, fee, or for free - be in the best interest of the client? The fiduciary rule makes it seem like paying a fee is a better deal than compensating through a commission. I would argue that it isn't always the case.
In order to understand the basic premise, it's important to explain the difference between advisors who charge only fees and those like myself who have the option to be compensated through either fees or commission. In 1991, I passed the first exam that allowed me to work with investments. I became affiliated with a broker-dealer and most of my work paid a commission, not dissimilar to how most investment advisors operated back then. Each time I wanted to be able to offer more than just stocks or mutual funds, I was required to pass an exam on the technical aspects of each area of expertise. A few years later, I realized that the industry was moving away from commission and towards charging fees, and to my surprise, the exam to become an investment advisor was not a test of financial or investment knowledge. Instead, I only had to know the rules associated with being a fee-based advisor. After passing the test, I now had the option of presenting clients with the choice of paying commission or paying fees.
I soon learned that "fee-only advisors", those who were not going to be affiliated with a broker-dealer, were only required to pass the investment advisor exam with no specific testing for technical knowledge. I also found out that some CPA's were now offering investment advice legally, with no technical expertise or experience. To know a little bit about how this industry works, you should know that advisors licensed through a broker-dealer are required to do continuing technical education each year, plus brush up on skills to prevent money laundering, identify cyber-security risks, and work with special cases and circumstances. Being part of a broker-dealer means daily monitoring from email communication to social media, annual audits, and the oversight that our recommendations are suitable and in the best interests of our clients regardless of how we get paid. The hoops we have to jump through are just one of the ways we can be proud that we're doing what's in the best interest of our clients.
So while the fiduciary rule was created with the best of intentions, it has also opened the floodgates for potential misunderstanding which can lead to adverse outcomes. Here are a few examples of what I've witnessed:
Bernie Madoff was registered with the SEC and received fee-based compensation. Where is he now?
Younger, less affluent clients do not necessarily meet the minimum requirements of most "fee-only" advisors. Paying a small commission may be the least expensive way to get young people engaged in investments and planning with a professional early in their lives.
Let's not confuse investment advice with planning advice. You can have an advisor who charges you a fee to work in your "best interest" but provides none of the comprehensive planning advice that many commission-based advisors would. Who provides the most overall benefit based on the compensation method you select?
If you're currently in a low cost 401(k) plan and a "fiduciary advisor" convinces you that you are better off paying an additional one percent for his or her "investment only" advice, I would argue that your best interests are not being met.
Don't assume that using a fee-based advisor who complies with the fiduciary rule isn't overcharging. According to fee comparisons, one percent seems to be the most prevalent level of fees paid for the investment advice. Think twice before paying more.
As the year draws to a close and the holiday season approaches, I can't tell you how to find an advisor who you can trust to do the right thing and make sure all of your financial concerns are met. I say "Bah Humbug" to those who think that new fiduciary rules will be able to legislate morality. After 27 years of never turning away a client based on his or her level of assets, I can only hope that more advisors will help their clients to build wealth and retire comfortably instead of prioritizing their own pockets.
Jay Gershman is the Owner and Founder of Retirement Visions LLC, a West Hartford-based financial planning firm that focuses on comprehensive life planning and financial management. For more information, visit www.allset2retire.com. Information and advice are for guidance only and opinions expressed belong solely to the author. Securities offered through Securities Service Network, LLC. Member FINRA/SIPC. Fee-based services are offered through SSN Advisory, Inc., a registered investment advisor.