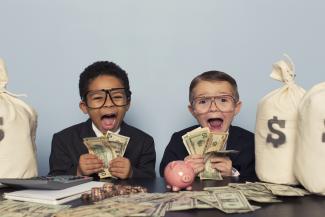 Frugal You Say? 30 Ways to Be Cheap Today and Live Richly in Time for Retirement
By: Jay Gershman
When I mention saving money, the most common objection I get goes something like this: "I'm not saving because I may not live to spend it."
I get it. It's hard to know what's going to happen in 10, or 30, or 50 years time. But in my decades of helping people plan for the best years of their lives, I've come across plenty of reasons why a little bit of frugality today can pay off big in the long run. So in the spirit of being downright cheap, I've put together 30 of my favorite ways to pinch pennies at home, with the car, and while traveling. I'd love to get this list to 100 and I'm excited to hear your ideas too.
Household Expenses
Have an energy audit done to identify ways to lower household bills (and help the environment)!
Have you heard of Citizens Oil Co-op? Look into it for lower costs on electricity and oil.
Consider converting from oil to gas for your home heating fuel.
Install Nest thermostats to control your heat and allow you to monitor your home from an app.
Lower your cable bill by calling and negotiating every year, or cut the cord and look into an alternative provider.  Plus, Netflix, Sling TV, Hulu - need I say more?
Do some research into various mobile carriers and take advantage of bundles. Data plans change every year and if you haven't reviewed yours recently, you're probably paying too much.
Tap into BJ's and Costco for as many food and paper goods as possible and use local stores to supplement.
Pack a lunch instead of eating out.
Host friends at home instead of going out
Find a handyman to make preventative repairs before small things turn into huge projects.
Auto Expenses
Avoid buying new cars and stick with certified pre-owned options with low miles.
Try to keep your car for six years and 100,000 miles.  Older cars have lower tax bills too!
Use coupons to save on regular oil changes and maintenance.They are on the back of just about every grocery receipt.
Have your auto insurance reviewed by an independent agent or larger insurer.
Find a smaller, reputable repair shop for repairs and maintenance.
When looking for a car, expand your search to Boston and New York.  Larger metropolitan areas often offer significantly lower prices.
Consider buying tires online, at Town Fair Tire, or a warehouse club.If you need one to match your existing worn tires, consider a used tire store.
When financing a car, be sure to compare the dealer's rates to AAA.
When financing, don't be fooled by a comfortable monthly payment. Negotiate the best price and rate of interest.
Don't automatically trade in your current vehicle. Websites make it easy to reach tons of people in your area. Try Facebook Marketplace, Cars.com, Autotrader, or even Craigslist.
Travel Expenses
Enroll in the loyalty program for every airline and hotel you use. Take advantage of apps to organize them all into one place.
Use a credit card for everything you spend money on each month in order to build miles that can often be transferred to loyalty programs. You'll soon qualify for free rooms or airfare.
When buying airline tickets, expand your search up to 100 miles from your location.This may result in more direct flights and lower fares.
If you need a ride to that airport, consider a one-way car rental instead of expensive limos or overnight parking rates.
Use discount sites to search for hotels but always be sure to compare rates with hotel websites, especially if you're a senior or if you have a AAA membership.  
When parking overnight during your trip, consider staying at hotels that offer lower rates for their guests.
Use coupons and discounts available online, in entertainment books, and at wholesale clubs.Costco offers great rates on car rentals and travel packages.
Instead of renting a car at your destination, consider using Uber and Lyft.This can also save the hotel parking charge.
Beware of resort late check out, WIFI and parking fees.
Consider cruises to save money.Cruises often offer great discounts and include meals. Just watch your bar bill!
I realize this list is just the tip of the iceberg and I'd love to hear your ideas too. Email me at jay@allset2retire.com or message me on Facebook at facebook.com/allset2retire and help me get to 100 tips!
Jay Gershman is the Owner and Founder of Retirement Visions LLC, a West Hartford-based financial planning firm that focuses on comprehensive life planning and financial management. For more information, visit www.allset2retire.com. Information and advice are for guidance only and opinions expressed belong solely to the author. Securities offered through Securities Service Network, LLC. Member FINRA/SIPC. Fee-based services are offered through SSN Advisory, Inc., a registered investment advisor.