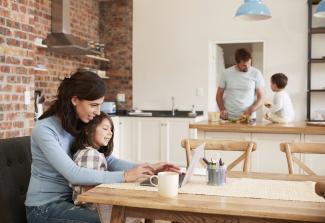 Lessons for the New School Year: 10 Steps to Lead a More Focused Life
Lessons for the New School Year: 10 Steps to Lead a More Focused Life
Jay Gershman, Retirement Visions LLC, West Hartford
The first few weeks of school always get me thinking about my days as a young person. My first report cards said I was disruptive, which morphed into "class clown" by the time I was in high school. There was no talk of ADD or ADHD back then, so I was left to my own devices to manage my short attention span. By college, I had mastered a strategy which helped me graduate with honors and a double degree in Biology and Finance, but it certainly wasn't easy.
Today our children's attention can be tested by the distractions of cell phones, social media, and video games. So in celebration of a new school year, here are my top ten tips for both young people and their parents to lead a more focused and goal oriented life.
Set aside time each year to identify your personal and professional goals and put them in writing. Once you've identified your goals, think about what accomplishing them would look like. If you're a visual person, a dream board is a great way to start.
Prioritize a small amount of time to work on your goals regularly. It's critical that the time you set aside becomes a priority, otherwise you'll find excuses.
Stay organized by making to-do lists and focus on tasks that will deliver the greatest impact on your goals. Check off your accomplishments to remind yourself that you're making progress.
Schedule weekly, monthly and quarterly reviews and make adjustments to your implementation methods. If you have a hard time focusing or being accountable, hire a coach to hold your hand to the fire.
When you're studying or need to work on a project that requires focus, put your cell phone away to avoid the constant interruptions that will rob you of a clear mind.
Don't let email and social media hijack your life. Set aside specific times to be focused on those communications but don't let them distract you from what's important.
Restrict your screen time and give yourself opportunities to connect with people in real life. This will allow you to keep a clear mind and you'll benefit from the interaction.
Practice yoga and meditation to quiet your brain and reduce your stress. These exercises can also improve your ability to listen and focus.
Delegate tasks that can be done by others so you'll have more time to focus on what's really important to you.
Set aside time to replenish your energy bank. The stress of daily life will take its toll, so be sure to maintain a balance by exercising, spending time with family, and doing what you love.
All too often people make excuses for the things that aren't going well in their lives. But in almost every case, those same folks can achieve the life they've always dreamed of with hard work, discipline and a proper plan. It might not be easy, but being dedicated and surrounding ourselves with the people and resources that can help us get to the goal we want to achieve is the best first step. There's no better time to get started than today.
Jay Gershman is the Owner and Founder of Retirement Visions LLC, a West Hartford-based financial planning firm that focuses on comprehensive life planning and financial management. For more information, visit www.allset2retire.com. Information and advice are for guidance only and opinions expressed belong solely to the author. Securities offered through Securities Service Network, LLC. Member FINRA/SIPC. Fee-based services are offered through SSN Advisory, Inc., a registered investment advisor.