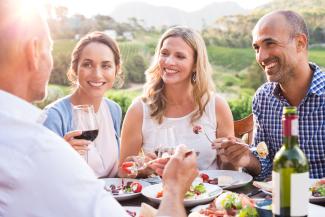 Plan Your Financial Life Like a Vacation to Live Richly
By Jay Gershman
How many times has a dream family vacation been sidelined due to the lack of time and energy to actually plan it? My wife and I are certainly guilty of it. An ambitious holiday gets thrown out the window and replaced with the last minute getaway because it all gets too overwhelming.
This is not dissimilar to how most couples handle financial planning. The idea of financial freedom sounds luxurious, carefree, and exciting, but putting in the hard work to make it happen becomes downright daunting. Unfortunately, just like the ultimate vacation, a successful life plan takes a lot of work.
Of course, with the work comes the greatest reward.
As a life planner, I take a different approach to what people might expect when it comes to managing finances. Just like a travel agent, I generally start with the big picture and ask my clients what they would want to do if they had complete control over their lives. Like a dream vacation, money is no object. For the exercise to be most effective, people can't be consumed by cost or impossibility. If finances are restricting their mindset, I tell them to imagine that they have just won a $250 million lottery. That usually does the trick.
From here we make a no-holds-barred list of what they want to do, buy, and experience. Just like some people dream of touring Italian wine country while others prefer to luxuriate in a hammock overlooking the South Pacific, people's financial dreams are specific and personal. They are also highly dependent on age.
Once we have created the list, I ask my clients to prioritize their dreams as if they only had 10 years to live. The simple fact is that most people don't create their "bucket list" because they are too consumed by the idea that they can't afford it or that other responsibilities will get in the way. By the time people get around to building a plan, a sudden death or ill-fated doctor's visit has thwarted any chance of "living the dream." By prioritizing the true "wants," we can focus on what's really important. The first trip to Paris wouldn't be complete with a visit to the Eiffel Tower, would it?
At this point, it's time to discuss the obstacles and restrictions. Just like in vacation planning, the budget is key, but it shouldn't stop you from living the life that you want. It's my job as a life planner to look at the numbers and create a strategy to help clients realize their dreams within their capabilities. Generally, the best success stories are from couples who come in early, are likely carrying the most debt of their lives, but also have several decades to commit to the plan. With clients in their 50s, success is achieved with diligence and focus to make the most of their final working years. In almost all cases, clients simply can't believe that most of what they want is entirely achievable.
The best people to work with are the ones who set their goals, put in the hard work, and make the best use of the time that's available to them. Just like a holiday, everyone needs to know where they want to go in order to get there. By planning our financial lives like a dream vacation, we can all look forward to living richly and enjoying the fruits of our labor.
Securities offered through Securities Service Network, LLC. Member FINRA/SIPC. Fee based services are offered through SSN Advisory, Inc., a registered investment advisor.