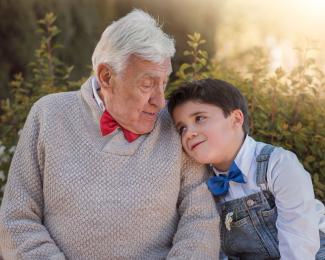 What I'll Tell my Grandchild About the Pandemic of 2020
Jay L. Gershman, Retirement Visions LLC, West Hartford
I spent part of Father's Day reminiscing about the days when my children were young, and my dad used to spend the afternoons telling them stories about life when he was young.  It got me to imagine what it will be like if someday I have the opportunity to tell my future grandchildren about this year.
Back in 2020, when I was much younger, turning 60 to be precise, the world seemed to stop for a while. I remember in January hearing about a virus in China so many miles away, at the time no one thought much about it. Pretty soon, it had spread to Europe and started to show up in the United States. Even in early March, I didn't know anyone who even knew anyone who had the virus but all that changed very quickly. Within two weeks, my friend's uncle in New York died and it was clear that this virus was not going away any time soon. I remember, this one Monday, I think it was March 16th, when the Governor of Connecticut, where I lived, announced that anyone not essential should stay home from work. I closed my office and all of my employees had to work from home for almost 3 months. During those three months, when everyone stayed home and there was barely a car on the road, some surprising things happened. Let me tell you some of the ones I can remember;
Every major sport shut down plus all college sports. It was the first time that I didn't get to watch the NCAA Basketball tournament.
Since we couldn't go near people, everyone used a program called zoom and had Happy Hours over the computer. Some of the Happy Hours were way before 5 o'clock too. We even had a few Birthday Parties by zoom and your great Grandma Sonia in Florida even got to have one. She loved having all of the family speak one by one about her and why they loved her. It was even better than a normal birthday.
Your mother/aunt Emily graduated from Syracuse that year but there was no ceremony. She was very sad she didn't get to spend her last 2 months of college with her friends. For her birthday in April, we cheered her up by having all of her friends drive over and we had a birthday caravan drive by the house one by one. She loved it.
So many people died but funerals with groups of people weren't allowed so families started to have funerals on the internet. Every day there were notices that people in our synagogue had died, most of them were older or had prior conditions but it was very sad and very scary. Most people were very afraid to get the virus and wouldn't go near anyone.
We couldn't go to the supermarket so they started a service where you ordered online and they delivered to our house.
We couldn't go to the Mall so everyone bought things on Amazon. Everywhere you looked there was a truck with a big smile on it. Yes, that's the same company that ended up buying the whole United States.
Since we were stuck in the house, your mom and auntie made me watch every episode of a crazy show called "Naked and Afraid". Someday I'll tell you more about that show but you're too young. For the three months we were stuck inside, we had so much fun together. Frankly I was surprised.
Everyday, I worked in the basement, your grandmother ran and worked out in the room above the garage while your mom and her sister did puzzles and worked on the computer.
With nothing else to do, all of a sudden everyone started to exercise. We would take a walk and neighbors we never met before would be walking too. We got to meet a lot of neighbors that year.
Back then, we had a dog named Cooper. Normally, no one was home all day so he would sleep on the top of the couch. He really never did much. During the pandemic we were so bored, that we walked him about 5 times a day. He loved each and every walk. On every walk, someone would ask if he was a puppy and we had to tell them he would be 14 in August (that's 98 in people years).
I played golf back then and golf was one of the only sports that was allowed. They wouldn't let you take a cart with another player and they put these crazy contraptions on each flag so when the ball went in you didn't have to touch the flag stick to get the ball out. That year, golf was the most popular since Tiger Woods, the second greatest golfer of all time,  was winning back at the turn of the century.
By the time May rolled around people were so stir crazy they bought up every boat, RV or beach house in sight. That was the year we bought ours. We were able to sit on the beach without those masks, it was great.
Grandpa was a financial advisor back then, That means I helped people retire and make sure their money would keep them retired for their whole life. That year was a doozy. The stock market fell so fast in only 20 trading days that it wiped out the great year we had the year before and then some. The financial world looked pretty grim on March 23rd until the Federal Reserve and Federal Government came to the rescue. So many people on TV were predicting the end of the financial world but pretty soon the market was almost back to where it was before the virus started.
The weird thing was that summer, while the market was doing well, most small businesses, especially restaurants were struggling. First restaurants were only able to do take out, then only outside dining and then finally in June, the inside opened but people had to be 6 feet apart. So many people were unemployed that summer but it was hard to figure out because the government paid people an extra $600 per week if they were unemployed and then was surprised when many people refused to return to work. The government also gave $1200 to every person who could fog a mirror. Instead of giving money to people who were affected by the virus, lost their job or didn't have money to eat, they even gave it to people like my mom who never even deposited the check because she was afraid to go to the bank.
 Everyone started to use this phrase I hated, "social distance", it meant stay 6' feet away from the next person. We used to greet people by shaking hands. People haven't done that since 2020. We still hug our family though. That's worth the risk.
The saddest thing that happened that year besides the people dying from the virus were shootings of African Americans by police. There were numerous videos that surfaced of police killing people who had committed minor crimes. One video showed a man on the ground while an officer had a knee on his neck for 9 minutes. He died. Your grandpa grew up in Bloomfield Connecticut, one of the most racially integrated towns in the United States. We were an "All-American" town because of racial diversity. I couldn't believe that 40 years later, black people were being discriminated against. As a financial advisor, I hated that Bernie Madoff made us all look bad. I know that most police officers are good but these incidents of people being shot and killed were happening too often. That year, people protested and chanted "Black Lives Matter". Some people refused to acknowledge their unique concerns by stating that "all Lives matter". As a Jew who has experienced countless acts of anti-Semitism I can relate to prejudice. I hope that every generation is more respectful of each other than the last.
I think the thing I'll remember most about 2020 and the pandemic was the President. His name was Trump. They tried to impeach him. They tried to say he was crazy, unfit to lead. Some of that was probably true. He had a lot of good ideas. Ones that no other President had thought of. He tried to get the Chinese to reduce their tariffs on US goods. He tried to get them to let us sell more US products in China. He reduced taxes on corporations. He stopped the mean regulations that were designed to torture my business. He really helped Israel. He even moved the embassy to Jerusalem. Unfortunately, he spoke before he thought things through completely. At the beginning of the virus, he said "there were 15 cases and would be zero in a few weeks". He used to use adjectives loosely. He even said the virus test kits were "beautiful". The media hated him. If he didn't like a question, he would berate the reporter and call the information "fake news". He became President after being on a TV show called the Apprentice. On that show, he fired people trying to win the show by using the phrase "you're fired". During his first term he used that term a lot. He cut many programs that helped a lot of people and he even cut the agency in charge of pandemics. That one may have been a big mistake. Anyone who didn't agree with him got fired.
That summer was just before the next Presidential election.  President Trump had his first rally in June in Oklahoma. People gathered together and didn't wear masks. Funny thing I noticed that year, the people who were the most nervous to get the Corona virus listened to the Democratic leaders and the ones who were less cautious seemed to be Republicans. That was weird. Anyway, President Trump was campaigning against another old guy named Joe Biden. Joe also said a lot of stupid things. Some people thought he was losing his marbles too. Didn't matter. Some people just loved Trump and other people would vote for anyone other than him. That election seemed to me like a very important moment in US history. Going into the election, reports showed Joe was leading. But everyone remembered that Hillary was also leading four years before. Would Trump pull another rabbit out of his magic hat? What would happen to the stock market if Joe won? What would happen to the Supreme Court if Donald won? Would we ever get reforms that made people of color feel comfortable in their own country and community?
What happened?. Did they ever get a vaccine? Who won the election? ....................................... Go to sleep, I'll tell you tomorrow. It's a great story.
Jay Gershman is the Owner and Founder of Retirement Visions LLC, a West Hartford-based financial planning firm that focuses on comprehensive life planning and financial management. For more information, visit www.allset2retire.com. Information and advice are for guidance only and opinions expressed belong solely to the author. Securities offered through Securities Service Network, LLC. Member FINRA/SIPC. Fee-based services are offered through SSN Advisory, Inc., a registered investment advisor.