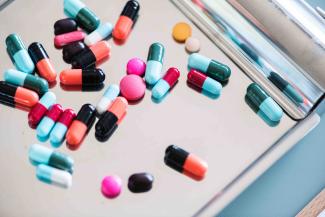 Will Amazon, Berkshire Hathaway and JPMorgan Chase Reinvent Health Care?
The three heavyweights recently announced that they are joining forces to reduce health care costs for their employees. Will the new model shake up the health care industry?
The U.S. health care industry might be seeing the early signs of major shifts such as employers exerting pricing power to rein in costs; the aggressive use of technology such as drones and databases to predict, diagnose and treat diseases; and, consequently, an upending of the bargaining power of providers such as hospitals, physicians and pharmaceutical companies. All those and more are expected to come from a health care alliance announced recently by three heavyweights—Amazon, Berkshire Hathaway and JPMorgan Chase, led by their respective CEOs, Jeff Bezos, Warren Buffett and Jamie Dimon.
"They are acting as customers of health care on behalf of their employees and they are saying, 'We finally have to get our act together and do something serious,'" said Robert Field, Wharton lecturer in health care management who is also professor of health management and policy at Drexel University. "[However,] the big question is: Will they develop something that's scalable and transportable? If not, they will undoubtedly accomplish great things for their employees. But it will pretty much stop at that."
Field predicted the alliance will use technology to dramatically change the way health care is delivered. "This is going to move us closer to more technologically focused health care, from drones dropping our prescriptions at our door to artificial intelligence algorithms spotting disease trends and large databases helping to diagnose you and treat you," he said. "We're going to lose the personal touch in health care, but perhaps we need to be going in this direction. We don't have the corner bookshop the way we used to, and we don't have a corner pharmacy the way we used to. Health care is going to go there one way or another."
Wharton management professor John R. Kimberly said he wasn't sure if the new company the trio plans to set up would be successful in lowering health care costs. "In theory, it could potentially [lower costs and improve access] for their employees," he said. "[But] in practice, [those effects are] not so clear, even for their employees." The three companies have a combined workforce of a million employees.
According to Kimberly, the big question is the likely impact on the larger health care industry. He identified at least two avenues of potential impact. "First is the impact of whatever models/arrangements the troika is able to develop, implement and spread to the larger market. Second are the kinds of second- and third- order effects the troika might have on the industry as a whole."
A response to high costs
Lowering the growth rate in health care spending is among the topmost priorities, according to Mark Pauly, Wharton professor of health care management. Here, with the new health care troika, "anything is possible," because details are scarce, he said. "We can be sure it will not lower costs, but it might lower the rate of growth in spending," he added. "Beyond that, one is betting that someone in this new organization will have a novel idea to make care more cost-effective."
The alliance is both a response to high health care costs in the U.S., and part of a larger trend of consolidation in the industry, according to Guian McKee, a professor at University of Virginia's Miller Center and a health policy expert. He pointed to some recent moves: Pharmacy retail chain CVS last December said it is buying insurer Aetna. Also last year, health insurer UnitedHealth bought the primary and urgent care services businesses of DaVita Inc. and Surgical Care Affiliates. (Both Field and McKee discussed the potential for the health care alliance on the Knowledge@Wharton show on Wharton Business Radio on SiriusXM channel 111.)
"What kinds of alternative arrangements might be motivated by whatever they do?" Kimberly wondered. "One has only to imagine that the proposed merger between CVS and Aetna might in part be a response to the threat of Amazon's entry into the industry to realize the potential ripple effects."
As it happens, when pharmacy retail chain CVS and insurer Aetna announced their merger in December, Pauly suggested that the move was a pre-emptive barrier against Amazon. "It's intended in part as a defensive measure because of a fear that Amazon will enter the pharmacy space and the pharmacy benefits management space potentially," he told Knowledge@Wharton at the time. Amazon's moves in the health care space have thus far been low profile. It was reportedly in talks with generics giants Mylan and Sandoz, a unit of Novartis, CNBC reported in December 2017; earlier in May 2017, CNBC reported that Amazon was looking to enter the pharmacy market.
The few pointers available in the sparse press release from the trio were that this would be a "long-term effort," that the independent company that will be set up will be "free from profit-making incentives and constraints" and that its "initial focus" will be on "technology solutions that will provide…simplified, high-quality and transparent health care at a reasonable cost."
Overhauling U.S. health care
According to Field, the big test for the alliance would be to develop a model that streamlines costs and could be replicated across the health care industry. "It gets back to this question of how do they restructure our delivery systems in ways that bring in efficiencies, and challenge the pricing power" of hospitals, physicians and pharmaceutical companies, said McKee.
Field hoped the alliance would serve the role of overhauling health care in the U.S. and recalled an observation by the late Princeton University professor of political science and economist Uwe Reinhardt that "in health care, one person's cost is another person's income." He said the question is not just whether health care in the U.S. is too big to fail, but also if it is too big to shrink. "If we're going to seriously cut costs, then we're up against what Reinhardt noted."
"Someone in the health care industry is going to have to lose. It's either going to be salaries or shareholder value for investors or it's going to be profit margin," said Field. The entrenched players in health care may view that change as inevitable, but they would "continue to fight tooth and nail to delay that day of reckoning," he said. "But maybe if we have the buyer's side as strong as this (the alliance), the pushback will start."
On a related note, Pauly disagreed with Warren Buffett's stance that rising medical spending hurts employers and therefore hurts the economy. In the press release announcing the partnership, Buffett had said, "The ballooning costs of health care act as a hungry tapeworm on the American economy."
Pauly said it is not clear whether rising medical spending hurts the economy. "It depends on the benefits from that spending, and there have been some spectacular ones for heart disease, hepatitis, cancer, etc.," he said. "Of course, waste is never good for consumers or anyone, but no one has yet figured out how much there is in health care that anyone can do anything about."
Threat to jobs?
McKee noted that the health care industry is a large employer, and that reining in excess health care spending would hurt jobs. "Maybe that is why it's been so difficult for the system to reform itself…. Maybe you need this kind of outside, disruptive force to take it on."
Field did not think cost cutting in health care would necessarily lead to job losses. "I certainly agree we've been using health care as a jobs program in this country," he said. "It's been pretty much immune to recessions, including the Great Recession of 2008, and disruption will mean a lot of jobs lost."
However, Field expected some of those jobs to move to the technology industry. "So we won't have as many people working in hospitals; they'll be working at Amazon doing programming or working with customer relations for whatever this new product is. I think it's inevitable that we'll see this shift from hands-on care to more tech-oriented services. All disruptions are painful for some people, but with 18% of the GDP and climbing devoted to health care, it's going to have to happen sometime."
Challenges in model building
According to Kimberly, the alliance will face obstacles in developing alternative health care models for both their employees and for the larger market outside. "Developing a model—or models—that will serve simply their own employees will be complicated enough," he said. "Its success will hinge on how they are able to deal with the tension between the historic reality that much of health care is local and the fact that the approach and expertise they bring have to be trans-local in order to be effective.
"The challenges of attacking the larger health care market will be orders of magnitude more complicated," said Kimberly. That task faces several questions, he added. "How big a piece of the health care landscape are they going to try to attack? Will it focus primarily on the supply side? What about the provider side? And how will they try to position themselves with regard to each? What possibilities for systemic integration are there?"
McKee said one possibility is for the alliance to go outside the existing delivery system and bring in physician groups, hospitals and primary care clinics. He noted that pricing power is critical to "bend the cost curve" in the health care system. But he wasn't sure if the alliance would have sufficient power to achieve that. "I don't know, even as big as these three companies are, that they have the size and leverage to really influence the existing delivery system to make a difference for their employees and potentially beyond," he said. "There may be a need to think about rebuilding the entire system. Maybe that's where the real opportunities would probably lie."
Amazon the driving force?
"Amazon is really the wild card in this equation," said Field. "They have made their living over the last 15 or 20 years disrupting things, and the expectation is they'll disrupt again." He noted that Amazon could bring its expertise in artificial intelligence and big data to the alliance.
Kimberly said his guess, too, is "that Amazon is the driver of the initiative." Part of what Amazon brings is its technology expertise in logistics, its emerging AI-enhanced capabilities, and "the scope of its footprint," he added. Amazon's top asset is a sticky customer base—various studies put Amazon's Prime membership base at between 63 million and 69 million.
"People are inclined to credit Amazon with magic, but who knows if it will extend to this line of work?" said Pauly. "The public announcement only talks about assembling smart people and giving them resources—which has been tried already by insurers, delivery systems and the government through Medicare—and it has not worked. So this is a bet on pixie dust." (The press release named three senior officers from the three companies as those who will lead the formation of the company.)
In any event, "Amazon seems to be the spark" for the alliance, said Pauly. "Technology has been tried (electronic medical records, for example) and has probably improved quality a little but not lowered spending growth. I do not see major gains possible in just getting drugs to patients better, but there might be gains from reducing the use of low-value drugs and improving adherence to high-value drugs. Maybe Amazon staff can come up with something innovative here. Still, drug spending is only 10%-15% of the total [health care bill]. You need to reduce hospital use more than has been done so far to make real money."
Likely outcomes
Pauly is not convinced the alliance will deliver on all the expectations industry watchers have. "They appear to be doing it on faith, not based on evidence," he said. "That is what businesses do all the time and some of them are successful at it. I expect actual efforts will, at a minimum, fail to yield quick and substantial gains and that may lead to blaming each other. Or their employees may object to being guinea pigs." He noted that one precedent that failed to go beyond its immediate purpose. "The Kaiser Health Plan, which started out as a plan for Kaiser workers and was extended to other consumers in California, has not really been able to go any further away from the original home base."
Kimberly is cautiously optimistic. "To say that this partnership could be a game changer is, to me, potentially the case," he said. "But until we know more about the 'what' and 'how' of what they propose, it's simply impossible to gauge what impact it will have."
Field sensed that the CEOs of the three companies in the alliance may be looking at leaving a legacy behind, in addition to spotting a business opportunity. "I don't think Jeff Bezos bought the Washington Post because he saw it as a tremendous profit generator," he said. "And Warren Buffett is concerned with social causes, and at his stage of life, he may be looking to see what his real legacy will be. I think the three of them see a social impact on the country that they can leave behind beyond just the companies they've pioneered."
Securities offered through Securities Service Network, LLC, Member FINRA/SIPC.
Advisory services offered through SSN Advisory, Inc., a Registered Investment Advisor.