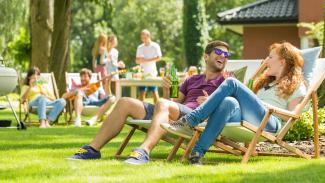 10 Ways to Save Money and Keep Having Fun!
As prices of everything increases by the minute, here are some money saving ideas that can save you money and help you continue to achieve your goals.
Get an energy audit of your home to see where you're losing heat. Your local electrical provider usually subsidizes the cost and in most states you will be eligible for free insulation and other energy saving products. While you're doing your audit, have your oil boiler or furnace tuned. If your equipment is relatively old, it might be time to consider more efficient units and natural gas conversions ( 

if available in your area)

, now. New technology such as split systems and heat pumps can drastically reduce your heating bill and even provide you air conditioning.
When you're buying oil, propane or electricity consider a buying group. In Connecticut, I use the Citizens Oil Cooperative which offers large discounts on all three.
Regardless of where you get your heat, turn down your temperature or use a programable thermostat to automatically save you money.
A smart thermostat will allow you to monitor your home temperature wherever you are and give you more confidence when reducing your temp to 50 degrees (ask your provider what's safe) while traveling.
Begin educating yourself on the new tax incentives built into the latest bill passed just recently regarding electric vehicles and solar. These tax rebates can be just what's needed to make the purchase make sense financially.
Plan your grocery trips carefully. Instead of running for few items, plan what you need ahead of time to allow for using coupons and warehouse stores such as Costco and BJ's.
Use gas apps to locate the lowest gasoline prices in your area. If your car requires higher octane don't use the lower octane gasoline without checking with your mechanic. Reducing the octane in may cars drastically reduces the MPG or can cause damage over time. Once again the Costco and BJ's offer low prices on gas as do grocery chains like Stop & Shop where you can accumulate points for discounts.
When shopping for household items, use the internet to comparison shop. Capital One advertises a service that tells you when a lower price is available. Consider buying new and slightly used items on Facebook Marketplace where you can save big!
When planning construction at your home, always get multiple quotes by asking friends for reputable contractors or consider using a service like Angie's list or yelp. Remember, busy contractors "don't sharpen their pencils". If the overall price seems high, you might be better off waiting until the economy or the weather cools off.
If you're planning a vacation, the internet again offers great deals. AARP, AAA, Costco and BJ's offer travel discounts to their members. If you use the large travel search engines for discounts remember to always go back to the actual hotel or airline site to be sure the price and cancellation policies are actually better. In many cases the actual hotel site and the discount from AARP,AAA, Senior might be lower. If you're not sure and afraid to commit, it might be best to still buy your airfare as long as it's refundable since prices tend to rise as seats fill up closer to your date of travel. If you're planning a trip for a large group, consider AIRBNB or similar sites to find a house instead of multiple hotel rooms.
Think before you spend. Before the use of Debit and Credit cards, people had to have cash to buy what they wanted. Today, if you see something you like, you enter your number, slide in a card or just tap. All technology is designed to make it easier for you to be impulsive. To make matters worse, many businesses are turning to monthly subscriptions instead of an annual cost to make buying less painful. Over time, we accumulate many of these small charges that add up to a lot of money. Review your credit card and bank account and ask yourself  "do I really need this"? if not, cancel it and use that money for something you really need it for.
   Don't stop spending, stop wasting and start squeezing every dollar to get the most out of your money. Have fun.