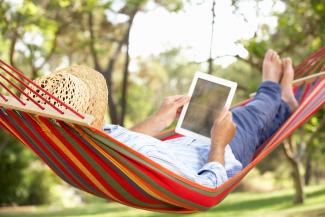 6 Tips to Help You Thrive in Retirement
Retirement is a life goal people work hard for, so you want to make sure it's as rewarding as possible. There are many ways you can spend your retirement, and it's different for everyone. Retirement offers you a wealth of opportunity to indulge in what interests you the most, whether it's traveling, spending more time with your family, or picking up a hobby you've always wanted to try. Whatever it may be, here are a few tips to help you thrive in your retirement.
Routine
Transitioning to a retirement schedule can be confusing at first if you're not sure how to spend your time. Having a routine can help you focus on what's most important to you day to day, and keep you focused on your accomplishments. You don't want to schedule yourself to the point of exhaustion, just to ensure your days are fulfilling. Remember that you get to use your time any way you want, so if you schedule something but aren't feeling up to it that day, there's always the next day.
Focus on Physical Health
Make a point to stay active. Incorporating physical activity of any kind into your daily routine can boost your spirits and ensure you're taking care of yourself. If having an exercise routine is a new endeavor, there are many ways to go about it. You don't necessarily have to join a gym -although it's not a bad idea – but going for walks, doing yard work or taking an exercise class are all viable ways to maintain an active lifestyle in retirement.
Plan to Travel
Retirement gives you the opportunity to plan that trip you've always wanted to go on without any interruptions. Now is the time to indulge in your aspirations, so even taking a day trip somewhere you've never been before can be an exciting opportunity to get out of the house and see the world. When planning for retirement, it's important to budget for the things you want to do, so if you've prepared to spend some time traveling, now's the time!
Think About Downsizing
Whether you have less people in the house or just find you have more space than you know what to do with, it may make sense to downsize into a smaller home or an apartment community. You may want less upkeep, and a smaller home or condo can provide you with that luxury. The same applies to cars. You might be driving around a lot less without a commute every day, or have an extra car that you don't need between you and your spouse, so any areas of your life that can be simplified can lead to a more enjoyable retirement.
Joining a Club or Volunteer Work
There are a lot of people who enjoy having something to go to everyday, whether that be the gym, work, or any routine activity. Now that you've moved on from your typical 9-5, you'll find there's more hours in the day to fill. How you choose to fill your time is entirely up to you, but there's a lot of retirees who enjoy giving back to the community or joining clubs. These are great opportunities to stay social and feel good about your life. You may find a new activity club to be a part of that meets certain days to keep you productive. So explore your opportunities, take a chance and delve into something new.
Keep in Touch with Friends and Family
Being retired gives you the time to catch up with friends and spend more time with the people you love. If you made friendships at work, remember to keep in touch with your fellow coworkers now that you won't see each other every day. It's important to stay social during retirement.
Planning for Retirement 
Planning for your retirement ahead of time is one of the most important steps to help you thrive in retirement. Whether you have a 401(k) or pension started, it's important to go over your retirement goals regularly as they could change over time. Here are a few key points to remember about planning for retirement: 
Start planning for retirement as soon as you can to take advantage of compounding.
Planning should include time horizons, estimating expenses, calculating after-tax returns and estate planning 
Retirement plans evolve over time, so portfolios should be rebalanced and estate plans updated as needed.