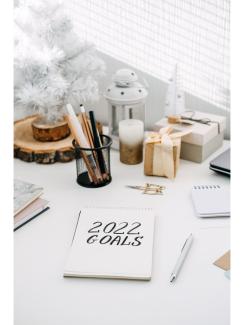 7 Steps to Keeping Your New Year's Resolutions!
How to follow through on New Year's resolutions
The new year is the perfect break in the calendar that allows us to take off the old and put on the new. It's like turning the page. It's a new chapter. It's a new book! You can't change the past, but you can change the future.
One way we can make a change is to set new goals, which we call New Year's resolutions.
If you are considering financial resolutions, you might include getting debt under control, saving more for retirement, getting a head start on taxes, or reviewing health and life insurance options. It's an ancient idea.
Did you know that there is evidence that the first resolutions were made by the Babylonians about 4,000 years ago? Julius Caesar reintroduced the practice when he established January 1 as the start of the new year in 46 B.C.E.
New Year's resolutions are still made these days, but few follow through on them. According to a recent CBS News poll, only 29% of Americans had planned to make New Year's resolutions this year, down from 43% in 2021. Moreover, Statista reports that only 4% who make resolutions accomplish all they set out to do; 8% meet most of their goals and 16% meet some.
It's not encouraging.
We make resolutions to accomplish goals, tasks and to improve ourselves. In the financial realm, wouldn't it feel great to resolve and get debt under control, save more for retirement, get a head start on taxes, or finally review those health and life insurance options?
We get a sense of satisfaction when we "check that box." So how can we increase our chances of success? Follow-through is critical, and these tips will help you not only set, but attain your goals in the new year.
Set resolutions and achieve your goals
What resolutions are important to you? Set goals that are meaningful and within reach. Many set worthy goals, but they are too lofty or too difficult to accomplish. Traveling the world may be exciting, but it requires massive planning. And, honestly, it's vague.

A healthier lifestyle is a good resolution, too. But what does it mean to you? Does it mean working out or losing weight? If it's working out, then what, when and how often?

Be specific and get granular. Do you want to start a new hobby? Have you always wanted to paint? Check with local resources in your area and sign up for a class by the end of the month. It's specific, and you have attached a date to your resolution.

Don't choose too many resolutions. Choose too many and you'll likely end up accomplishing little. Instead, pick one or two. Elizabeth Saunders writes in the Harvard Business Review, "Because there aren't usually instant negative effects, you'll tend to look at these goals as 'extras.' And since most of us don't have much time or energy for a lot of extras, you'll increase your likelihood of success by picking just one or two resolutions." Agreed.

Write down your goals. According to Inc., Psychology professor Dr. Gail Matthews, at the Dominican University in California, led a study on goal-setting with nearly 270 participants. The results? You are 42% more likely to achieve your goals if you write them down.

Writing down your resolutions has a two-fold effect: it forces clarity, and it is motivating.

Implement a plan to achieve your resolutions. For example, let's take something simple. You want to get your house cleaned by the beginning of spring. You have your resolution, you've written it down and you have a date.

It may seem like a daunting task. But what if you were to schedule one room each day, or two rooms a week. Instead of always focusing on a far-away peak, you are taking one step at a time, and your goal is now manageable.

Recognize small wins. Writing down your small successes allows you to see your progress.
Keep yourself accountable. And, whatever your resolution may be, it helps to have an accountability partner—preferably someone you look up to. Besides, you can encourage each other.
Reward yourself. There will be an inherent sense of satisfaction when you have achieved your New Year's resolution, but why not give yourself a prize, a reward when you have checked that box? It's an accomplishment, and you deserve to celebrate it.
You won't be perfect. At times, life will get in the way. That's ok. Just keep coming back. You may not accomplish your resolutions right away, but with persistence, you'll see success.
A banner year and a new year
The year 2021 was a banner year for investors. The broad-based S&P 500 Index, which is made up of 500 larger U.S. companies, finished the year up 26.9%. If we included reinvested dividends, the index advanced 28.7%, according to S&P Dow Jones Indexes.
Key Index Returns
Index
MTD %
YTD %
Dow Jones Industrial Average
5.4
18.7
Nasdaq Composite
0.7
21.4
S&P 500 Index
4.4
26.9
Russell 2000 Index
2.1
13.7
MSCI World ex-U.S.A*
5.0
10.1
MSCI Emerging Markets*
1.6
-4.6
Bloomberg Barclays U.S. Aggregate Bond TR
-0.3
-1.5
Source: Wall Street Journal, MSCI.com, Morningstar, MarketWatch
MTD returns: November 30, 2021–December 31, 2021
YTD returns: December 31, 2020–December 30, 2021
*U.S.D.
Much better-than-expected corporate profits (Refinitiv), which were powered by an expanding economy, plus a super easy monetary policy compliments of the Federal Reserve, deserve much of the credit.
Low interest rates, low bond yields and rising profits easily offset worries about the lingering pandemic and much higher-than-expected inflation.
But we are now looking ahead into 2022. What might the new year bring? After last year's strong advance, what might be in store for this year?
Since 1950, there have been 26 years in which the total annual return of the S&P 500 Index exceeded 20%, according to data provided by the N.Y.U. Stern School of Business. In the following year, the S&P 500 Index advanced 20 times, or 77% of the time, in line with the long-term average.
The average up year was 18.1%, while the average down year was 6.4%.
It's an interesting exercise, but let's always remember that past performance is no guarantee of future performance. Each year will have its own distinctions.
We could add one more wrinkle. The total return of the index has doubled over the last three years, according to Dow Jones Indexes.
What dictates the market's direction will likely be the economic fundamentals and whatever impacts those fundamentals.
For example, what might the Federal Reserve do with interest rates? At the beginning of 2021, the Fed expected no rate hikes in 2022. However, it failed to anticipate last year's surge in inflation.
As the year ended, the Fed's new projections, which it released after its December meeting, reflected a forecast of three quarter-percentage-point rate hikes this year.
Are those potential rate hikes already being discounted by investors? If inflation fails to ease—or worse, accelerates—could the Fed take a more aggressive posture?
Let's take this point one step further. Longer-term bond yields have remained very low in the face of a less dovish Fed, high inflation and robust economic growth.
Will we get a reset in 2022? Or have there been fundamental changes in the bond market that are holding yields low? Or do bond investors simply believe inflation and economic growth will slow?
Corporate profits are also a key driver of stock prices. Consider this: If you were to purchase or sell a small business, wouldn't recent and projected profitability play a big role in the sales price? It absolutely would. The same principle holds for publicly traded companies.
How will the pandemic play out? We've seen Delta and we're now seeing a surge in cases tied to Omicron. The economic impact of Delta was limited, and thus far, investors have side-stepped economic worries about Omicron. But what does 2022 hold?
We've posed several important questions that don't offer easy answers. We may see a pullback in 2022, and we recognize that downturns are a part of investing.
Based on your goals, circumstances and risk tolerance, we craft portfolios that help manage risk, but we can't eliminate risk.
If one trades the fear of a sell-off for a savings account, one won't participate in the long-term upside that stocks have historically offered. Conversely, take on too much risk when the market has been strong, and you may experience sleepless nights in a swift downturn.
If life events have forced you to rethink your goals, let's talk. Financial plans are not set in stone.
Yet, adherence to one's financial plan and a long-term focus have historically been the straightest path to reaching one's financial goals. We may see volatility next year. But predictions are simply educated guesses. As we've seen in the past, sell-offs, when they occur, are followed by rebounds. Keep this in mind as we navigate the new year together.