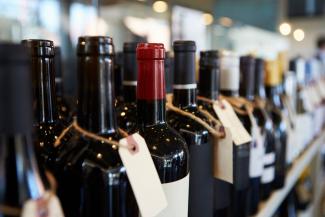 9 Bottles to Trim Wine Spending Now That Inflation Is an Issue
It sounds counterintuitive—why would wealthy clients care about saving a little money on wine? But they didn't get wealthy by accident. They love to get value for their money, and these recommendations on prudent wine purchases can segue into investment conversations.
Inflation is on everyone's mind. Gas is up in price. Ditto eggs. What next? Your wine-loving clients, prospects and friends are feeling the squeeze too. As a wine fan (or budding wine fan) you want to continue refining your palate. Put another way, you don't want to drink tasteless stuff just because it is cheap. But what can you do when prices soar?
You might wonder what buying wine with an eye on value has to do with investing or getting high-net-worth prospects to become clients. In many cases, wealthy people are cheap! How do you think they stay wealthy? They love getting value. If you can be the person with the answers, you become their "go-to" person. If you can do that in the wine department, it may well open the door to other aspects of their lives, like investing.
Let's look at nine areas where you can find value in the wine world without sacrificing quality.
1. Swap Touraine for Sancerre
Sancerre, a sauvignon blanc from the Loire Valley is considered a classy, upscale wine. Urban legend says it was the official white wine of Paris. It crept up in price. A good one will run $20 to $40+. Touraine is also a wine region in the Loire Valley. The wine is also made from sauvignon blanc grapes. A bottle might set you back $15 or $16. And if you are lucky, you will find it on sale for under $10.
Snob appeal: Low
Enjoyment: High
Value: High
2. Swap Chablis Premier Cru for pricier white burgundies
It is possible to find a bottle of Puligny Montrachet for as "little" as $80, but many others are in the $100 to $300+ range. Your wine-loving client who is also a label snob is not going to buy into "New Zealand chardonnay is almost as good." Chablis is another respected white wine region in Burgundy. For some reason, their wines are better value than Meursault, Chassagne-Montrachet and PM, referenced above. You should be able to find a Premier Cru Chablis also made from the chardonnay grape in the $40 range. I even have seen it in the low $30s. Costco has one under their Kirkland label for about $18.
Snob appeal: High
Enjoyment: High
Value: High
3. The Kirkland Signature line at Costco
Costco deals directly with producers all around the world. They buy wine and bottle it under their own label. Both quality and value can be excellent. They have their own (French) champagne at about $20. I mentioned their Premier Cru Chablis in the above example. They bottle their own Napa Cabernet too. The only problem is label snobs might not want to serve a wine from a big-box store.
Snob appeal: Low
Enjoyment: High
Value: High
4. Swap Mumm's Champagne for Moet
Here is the solution to that problem. Moet et Chandon champagne runs about $50–$60 a bottle now. Veuve Clicquot is up there too. From time to time, Costco has Mumm's champagne on sale around $28+/bottle after an in-store discount. Mumm's is a well-known brand. For years it was the one poured over winner's heads at the Formula 1 races for 15 years. (Then sponsors changed.) Mumm's has name recognition.
Snob appeal: High
Enjoyment: High
Value: High
5. 90+ Cellars
The wine business is unique because every year produces a new vintage. Sometimes the past vintage doesn't sell out. Prestigious wineries can't run "blowout sales" without cheapening their brand. Some will sell-off their excess wine sitting in tanks or barrels to an intermediary who will not disclose the name of the original producer on the label. 90+ Cellars is an example. There are others. You can get quality wine at a more reasonable price.
Snob appeal: Low
Enjoyment: High
Value: High
6. The 2019 Bordeaux Vintage
Bottles are arriving on shelves at finer wine stores. Prices are not that bad. Availability is always the issue. Cos d'Estournel, a Grand Cru from the St. Estephe region is about $160. The average on the 2018 is $228/bottle.
Snob appeal: High
Enjoyment: High
Value: Medium
7. Second labels from top Bordeaux chateaus.
If $160/bottle sounds expensive, consider the second-label wines from famous properties. Same grapes, but younger vines. Same land, same production facilities, same winemakers. Cos d'Estournel has a second label, Les Pagodes de Cos priced at $45/bottle. That's about a quarter of the big-name wine.
Snob appeal: High
Enjoyment: High
Value: Medium
8. Swap Rioja for red Bordeaux
OK, that's a big step. Spain for France. Different grape types. Both are wines with flavor that improve with age. Rioja comes in three or four tiers. Tempranillo, the grape is often used to describe the lowest tier. It's often called Crianza. The words to look for are Reserva and Gran Reserva. You should be able to find Reservas under $20 and Gran Reservas in the $35–$50 price range. They have already been aged at the winery before release. Get some advice from your local wine merchant.
Snob appeal: Medium
Enjoyment: High
Value: High
9. Swap Mâcon for Meursault
Chardonnay is the default grape for white wine in Burgundy. Now imagine you were a custom builder in Manhattan. You design great homes, but they are hugely expensive because land costs so much. You decide to start building in New Jersey. Same quality design and construction, but the homes are more affordable because of cheaper land prices. Comtes Lafon is a famous producer in Meursault. The average price on his village level (entry-level) Meursault is about $178/bottle—if you can find it. They decided also to make wine in the nearby Mâcon region of Burgundy, where land prices are cheaper. His Domaine des Heritiers du Comte Lafon Mâcon wines sell for about $25–$35/bottle.
Snob appeal: High
Enjoyment: High
Value: High
These ideas might get you thinking: "If I can show my wine-loving friends, prospects and clients value in the wine world, where might that lead next?"