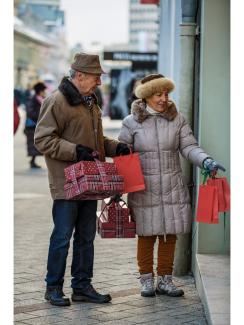 Holiday Holdup: Can We Solve Our Supply Chain Problems?
Holiday Holdup: Can We Solve Our Supply Chain Problems?
Nov 18, 2021 / By Knowledge@Wharton.com
The disruptions to the global supply chain hold lessons for both companies and consumers, say Wharton professors Santiago Gallino and Barbara Kahn.
During normal times, companies look for ways to make their supply chains operate more efficiently. But these aren't normal times.
Scenes of cargo ships circling ports, offloaded containers with no truck drivers to deliver them, and stores bereft of merchandise that typically overflows during the holiday shopping season are the result of global supply chain disruptions that experts say will take months or perhaps years to resolve.
In the meantime, there is a teachable moment amid all the tension, says Santiago Gallino, a Wharton professor of operations, information and decisions. He said the chaos rippling through wholesale, retail, transportation, and labor is an opportunity for companies to rethink the resiliency of their supply chains.
"When you make decisions laser-focused on efficiency, you might be missing on resilience," he said during an interview with Wharton Business Daily on SiriusXM. "Companies have discovered if it's one shock that lasts a relatively short time, you can manage and take the pain and the hit. But when this has been going on for several months, now the issue of thinking very carefully about how you can be more resilient going forward is an interesting conversation."
The Covid-19 pandemic caused product shortages in the second quarter of 2020 as firms dealt with quarantine-related factory closures and radical shifts in consumption from millions of people who were suddenly staying home. This year's disruption can still be traced back to the pandemic, but it's different. There's a deficit of parts used to make products, such as the computer chips that go into everything from iPads to automobiles. There's a scarcity of labor, with a record 4.3 million Americans quitting their jobs in August. And there's inflation. The Consumer Price Index has risen 5.4% since last year.
The Biden administration has responded with measures that include 24-hour operations at the Port of Los Angeles, a critical entry point for nearly 40% of the shipped containers coming into the U.S. And big retail players such as Walmart and Target have pledged to step up hiring and labor to ease congestion.
Gallino praised those efforts, but he said they won't be enough to solve the deeply complex issues with the supply chain.
"Many of these actions will mitigate to some extent the problem, but it's at a scale that's not easy to adjust," he said.
A rough holiday season
The broken supply chain is creating challenges for shoppers during the holiday shopping season. Retailers are already warning customers about product shortages and encouraging them to buy even earlier than usual. Black Friday specials typically reserved for after Thanksgiving started popping up at Macy's, Nordstrom, Kohl's, and other department stores in early November.
"It's going to be interesting for retailers to navigate this holiday season and for us, the customers, to be able to find what's on the shopping list," Gallino said.
Wharton marketing professor Barbara Kahn, a retail expert who is author of The Shopping Revolution, said neither product shortages nor inflation will keep people from purchasing this year, whether in-store or online. Retailers are doing whatever they can to meet pent-up demand and entice customers.
"Although we may see rising prices, there are several factors that indicate this will not be a serious concern vis-à-vis shopping," she said.
Kahn said some retailers are offering fewer promotions because of the lack of stock, and they are masking price increases by shrinking the size of the product or using other marketing tools to make price a secondary consideration. Price sensitivity is also lowered because customers know there are shortages and are being "bullish" about buying their preferred holiday gifts, she said.
"The biggest response we are seeing is expressed messaging to get consumers to buy earlier, and that seems to be resonating," said Kahn, who noted a Deloitte survey that showed 68% of respondents planned to shop before Thanksgiving this year, compared with 61% last year.
She offered a few tips for holiday shoppers who want to squeeze the most out of supply chain snags:
Shop early to take advantage of the best selection and promotions.
Be flexible and consider alternative choices. Kahn said more online retailers are using AI to recommend substitutions for out-of-stock items.
Be prepared for higher prices.
Buy less and consider experiential gifts.
Kahn agrees with Gallino that what's happening with the supply chain right now can serve as a teachable moment for the future, and not just for firms involved in operations and logistics. Retailers who have to close "the last mile" with customers also have a lot to learn from this moment.
"The pandemic taught us that you can never really predict the future. But those retailers who were following trends, for example like the growing importance of digital commerce or direct-to-consumer marketing, were in the right place when the predictable happened," she said. "Similarly with this new crisis, retailers who backed themselves up with alternatives had more flexibility when their critical supply chain avenues froze up."
She said the winners in the retail game are the companies that solve short-term problems while also tackling long-term ones.
"It is obviously hard to predict the unpredictable," she said. "But scanning the horizon and keeping eyes on changing customer values and trends gives marketers a leg up."