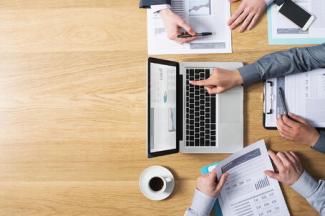 How to Reduce Risk When Hiring a Financial Advisor
Choosing a financial advisor is a major life decision. There are a lot of financial advisors out there— they're not all created equal. Who you choose to work with can tremendously impact your ability to reach your goals and achieve financial success.

Understanding the warning signs and red flags can help you to wade through a sea of choices and focus on the advisors who truly offer comprehensive planning with advice that's in your best interest.

This article examines several pieces of information that are crucial for selecting the right financial advisor.
Request Referrals and Vet Credentials

You would likely ask a neighbor for the name of a reputable home remodeler, and you'd ask a friend to recommend a pediatrician. So why shouldn't you seek referrals to aid your search for a financial advisor? In your efforts to solicit endorsements you'll improve your chances of finding someone trustworthy, so one of your first steps in finding an advisor should be to see who the people you know are satisfied with.

Beyond that, it's important to find an advisor who's certified to offer financial advice. Be sure to ask about an advisor's credentials before deciding whether to pursue an official relationship. Typically, you will want someone who is a Certified Financial Planner™ (CFP®) or a Chartered Financial Analyst (CFA). These credentials aren't easy to earn— they require coursework and the passing of exams, which means that if you have an advisor who has these letters attached to his or her name, you know that advisor has put in the necessary effort.
Ensure Their Specialty Aligns With Your Goals

Some financial advisors specialize in retirement planning; yet others are best suited for business owners or those with more assets. Some financial advisors may be a better fit for young professionals who intend to start a family. In any case, it's important to understand an advisor's strengths and weaknesses before signing on.

Beyond that, it's important to know which financial advice and services are provided by the advisor or by an affiliated professional (inside or outside the advisor's firm):
Planning: Financial, Retirement, College, Estate, Charitable
Investment: Active, Passive, Funds, ETFs
Insurance: Life, Annuity, Health, Disability, Long Term Care
Tax: Advice, Preparation
Legal: Trusts, Wills, Probate
 
Understand their Fees and the Expenses Taken From Your Account

Before hiring a financial advisor, it's important to obtain a description of all the fees that will be deducted from your account. Remember, there can be layers and layers of fees, commissions and transaction charges that are deducted from your assets.

The advisor in question must disclose the money that is being deducted from your account, so be sure to have a good idea of the following:
What is the dollar amount of the fee, commission or transaction charge?
Who gets the money that is deducted from your account?
What service do you receive for that amount of money?
How frequently is the money deducted from your account?
Find an Advisor Who Focuses on Comprehensive Planning (As Well as Investments)

It's important for financial advisor to diagnose your issues before they start prescribing solutions— much like a doctor would treat a patient. Typically, this involves them asking a wide variety of questions to better understand your individual financial situation, your goals and your income.

If you notice a financial advisor beginning to recommend certain investment strategies without asking enough questions to fully understand your situation, that's a red flag. Or if they start to suggest multiple investment options right away without proposing any sort of underlying financial plan, you should be wary.

Seek out a financial planner who believes in comprehensive planning and can create a solid financial plan— which is a living and breathing document that should change and evolve with your goals, your changing financial situation and your life circumstances.
Retirement Visions
People come to us with varying perceptions regarding their investment needs. We help clients focus on what's most important through our comprehensive planning approach. The end result can often shift a client's view of how they would like to focus their investments, which tells us how important this comprehensive approach really is! We take pride in offering a comprehensive life and financial planning process to anyone regardless of their level of wealth, because we are passionate about making a lifelong difference.
Sign up for a free evaluation to learn more about how we can help you!