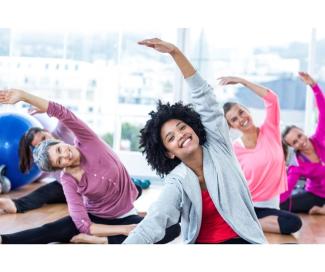 How Science Can Help You Keep Your Fitness Goal
How Science Can Help You Keep Your Fitness Goal
Feb 8, 2022 / By Knowledge@Wharton.com
Wharton's Katy Milkman shares insights from a new megastudy on exercise that reveals the best ways to change behavior at scale.
Fitness centers typically see a surge in attendance at the start of January, when millions of Americans resolve to get in shape by exercising more. By February, however, a large percentage of gym-goers quit.
A new megastudy from the Behavior Change for Good Initiative (BCFG) at Penn reveals techniques that may be able to make those New Year's resolutions stick around longer. It also has implications for scientists and policymakers who want to apply behavioral science to solve some of society's most confounding problems, such as vaccine compliance, medication adherence or school attendance.
"If you're a scientist or a policymaker and you want to make progress, why test just a single idea, which is the way science is normally done, when you could actually test dozens and compare all of them in a lineup," said Katy Milkman, a Wharton professor of operations, information and decisions, during an interview with the Wharton Business Daily show on SiriusXM.
Milkman, who is the co-director of BCFG along with fellow Wharton operations, information and decisions professor Angela Duckworth, joined dozens of other researchers in designing the megastudy, partnering with 24 Hour Fitness to test new tactics for encouraging gym attendance among more than 61,000 gym members in a study that lasted nearly a year.
The researchers tested 54 different interventions to learn which ones worked best to encourage exercise. They included some tried-and-true methods such as prompts to schedule visits to the gym, text reminders to visit on schedule, and cash incentives for each gym visit. Nearly half of the interventions significantly boosted members' gym attendance, but some outperformed others.
Prompting people to plan, sending them reminders, and offering participants a "micro-incentive" of about 20 cents, redeemable on Amazon, for each gym visit increased attendance by 9%. However, the researchers kicked this program up a notch by offering gym members who missed a scheduled workout an additional 9 cents (on top of their usual small payment) if they came back for their next scheduled workout. The extra emphasis on avoiding more than one missed workout boosted attendance by 27%.
"Obviously, it's not so much money that's driving it, but this idea that we're trying to motivate people not to let a streak of misses accumulate. [You can have] just once miss, but then get back on the wagon," Milkman said. "It's really exciting to see the power of basically communicating that you don't want to have two slip-ups in a row."
Beyond the gym
Milkman said the idea of testing new ideas via a megastudy can be widely applied across business and policy. Centuries of research have shown how incentives can induce people to change their behavior, but this study takes a far more nuanced look at what combinations of tactics work to change behavior.
"We're trying to move beyond understanding a pure incentive as a motivator and [asking] what psychological ingredients, what behavioral ingredients are powerful motivators of change that can be even more cost-effective when we have an important policy problem that we want to tackle," Milkman said.
Milkman noted that industry reaction to the study has been positive, and she expects more businesses will employ similar "light-touch, low-cost tactics" to help consumers achieve their goals. The proliferation of smartphones and big data makes connecting with consumers easier and less costly than in the past.
Beyond the business scope, Milkman hopes organizations and policymakers will recognize the value in adopting a megastudy approach to changing behavior. Even in this study, a panel of experts could not accurately predict which program designs would be most effective at getting people to exercise. That's why testing a large number of ideas at the same time yields greater benefits than conducting the single, traditional A/B test.
"You can advance knowledge much faster," Milkman said.