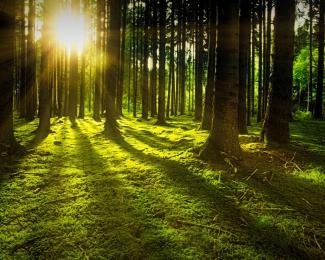 It is Time to See the Forest Past the Trees
In 2020, the term Coronavirus was searched more than 60 million times per month. If you watched daytime news the last year, you heard the terms pandemic, positivity rate, daily deaths, quarantine, contact tracing, and vaccine. If you watched political stations like CNN, MSNBC, or Fox, you were constantly exposed to talk about Trump, protests, Black Lives Matter, riots, violence, political discourse, Alt-Right, Proud Boys, police shootings, election fraud, and Impeachment. If you took the time to watch CNBC or read business news you were treated to terms like recession, market plunge, crash, unprecedented unemployment, business shutdowns, restricted capacity, pause, quarantine, state, federal and local deficits, economic disparities, food lines and markets/stocks that are over-priced and ready to correct.
It is said that 95% of headlines are blown out of proportion and 90% of all media is negative. To make matters worse, when there are difficult times, 1 in 10 adults in the US check the news once per hour. That is a lot of negativity to digest!
The question I pose is: how is this constant news of negative health, political and financial information affecting your life?
As you ponder this question, ask yourself these:
Do you find yourself overwhelmed by the threat of contracting Coronavirus? Has this caused you to feel out of control and spend more time pondering your own mortality?

Are you balancing what you are watching, whether it's health, political or financial news? Are you getting balanced viewpoints and limiting your exposure to the news to no more than one hour per day?

In retrospect, did you find yourself feeling stressed and coping in unhealthy ways?

Now that the election is over (yes it is), are you worried about how the new administration can negatively impact your finances?

Are you beginning to plan for life after Covid? Are you planning to do home improvements and travel before everyone else does and prices increase dramatically? 

Has the pandemic left you mentally exhausted from stress and unable to think, or can you see the light at the end of the tunnel?
Bottom Line:  After a year of grueling stress and isolation from family, co-workers and friends where nothing in life was within our control, the time is approaching when we will have our lives back(I will not be like the media and add something scary here that would leave you to believe that something bad could happen that would derail that). How will it feel two weeks after your second vaccination? Who will you want to see and where will you want to go? What have you always dreamed about doing but never took the time to do so? Isn't it time to cut down the trees blocking your view of life? Isn't it your civic duty to stimulate this economy with your newest stimulus checks?  If nothing else, stimulate your life.
If you or someone you know is stuck, unable to decide what to do or how to get a spouse to agree on what to do, call and schedule a life planning session to open your mind to the possibilities. These sessions are complimentary for clients and more than worth the fee for those who are not.
Jay Gershman is the Owner and Founder of Retirement Visions LLC, a West Hartford-based financial planning firm that focuses on comprehensive life planning and financial management. For more information, visit www.allset2retire.com. Information and advice are for guidance only and opinions expressed belong solely to the author. Securities offered through Securities America, Inc. Member FINRA/SIPC. Advisory services offered through Securities America Advisors, Inc.  Retirement Visions LLC  and Securities America are separate entities.