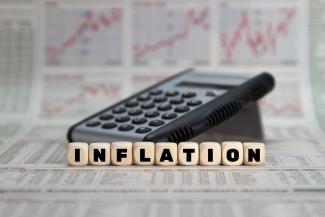 Quit Complaining and Start Saving
Quit Complaining and Start Saving
Planning Ideas to Fight Inflation
The latest headlines are focused almost solely on rising energy costs and inflation and the negative effect it will have on our spending power. In order, to best cope with rising costs, I have prepared some actions that you can take to reduce the effects of inflation and higher energy costs.
Car-Gasoline
Keep your car tuned up for maximum efficiency.

Drive slower to improve MPG.

Combine small multiple trips.

Buy gasoline at BJ's, Costco or utilize apps that can highlight the lowest gas prices in your area.

Start learning about Hybrid and Electric vehicles and the tax rebates available in case your car needs to be replaced.
Home- Energy
Have an energy audit done and insulate where needed.

Use a programmable thermostat to be sure the temperature corresponds to when you are home. Many thermostats can be controlled by an app.

Have your furnace or boiler tuned and consider conversion to natural gas when that option is available.

Wash clothes in cold water to save money.

Utilize a buying group for oil, propane and bioheat. Citizen's Oil Cooperative offers low cost options without contracts.

Make a conscious decision if you are willing to float your energy cost this winter or lock in before winter starts.
Everyday Purchases
Buy large quantities at discount stores or search online for deep discounts.

Use coupons for grocery purchases.

Prepare meals for the week and freeze additional meals for future use.

Reduce going out to lunch and dinner.

Don't buy what you don't need.
Home Improvements
Prices for materials and contractors are abnormally high due to production issues and demand exceeding the capacity of contractors.
Postpone projects that can wait.

Reduce the scale or do projects in stages.

Bargain shop for materials since prices can vary widely.

Get more proposals from contractors.

Delay projects to a less popular time of year such as November thru March.
Travel
Use search engines to shop for hotels, airfare, rental cars.

Use BJ's and Costco for their travel discounts as well as AAA and AARP. If your over 60, check for senior discounts.

Pay attention for airlines that offer deep discounts for fares during short term sales promotions.

Use points from credit cards to pay for airfare. Generally, points are worth more for airfare than for hotels.

Reserve airfare and hotels very early as long as cancellations are allowed. If you hesitate, generally prices increase dramatically as you get closer to your selected date. Travel midweek when possible, to save money.

Look for rental cars away from the airport to avoid the high tax surcharges. Many hotels have rental cars available for rent and drop off.

Instead of eating expensive hotel snacks and alcoholic beverages, consider visiting a local grocery store and stocking up on basic items and Happy Hour drinks.

Consider AIRBNB, especially if you need more than one room.

Use Lyft and Uber to avoid the high cost of rental cars.

If the price of travel is too costly

- consider a Staycation. There are many local interesting places to visit that aren't very expensive and can offer a different kind of fun.

Disclaimer:
Jay Gershman is the Owner and Founder of Retirement Visions LLC, a West Hartford-based financial planning firm that focuses on comprehensive life planning and financial management. For more information, visit www.allset2retire.com. Information and advice are for guidance only and opinions expressed belong solely to the author. Securities offered through Securities America, Inc. Member FINRA/SIPC. Advisory services offered through Securities America Advisors, Inc.  Retirement Visions LLC  and Securities America are separate entities.