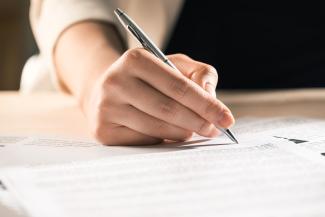 What are the Most Important Estate Planning Documents?
Having a well-established estate plan isn't just about drafting a Will or trust. Estate planning is to ensure your assets are successfully transferred to your loved ones should you become unable to do so yourself or after you pass. The process may feel a bit uncomfortable, but in the end, it will put you and your family at ease knowing there won't be any confusion as to how to handle your assets.
If you're looking to start your estate planning, here are some of the essential documents you should obtain during the process.
A Last Will and Testament
A Will is usually the first thing that comes to mind when talking about an estate plan. It doesn't have to be scary, rather, think of it as a financial plan to ensure things will run smoothly when it comes time for your assets to be transferred. Here are a few things your Will can identify:
Personal representative – This will be the person who oversees the distribution of your assets.
Guardians – Your Will should identify who will care for your children and provide details regarding who your assets will be distributed to and how.
You may include other aspects to your Will that are in line with your wishes in terms of how your assets are distributed and to whom. If you do not have a Will when you pass, the state you reside in will have a plan for your assets, which is why it's important to plan early because they may not be consistent with your intentions.
Durable Power of Attorney
 A document granting power of an attorney, or a POA, is important because a court will be left to decide what happens to your assets without one. The agent or person you assign in this document will be in charge of managing your assets and any other financial decisions, such as filing tax returns, buying or selling real estate, or any legal decisions you wish to take place in the event you are unable to do so.
An Advance Medical Directive
Medical decisions are important to organize because this is one aspect that can be very costly if not put into consideration. Setting up an Advance Medical Directive helps your doctors and or caretakers to follow the decisions you wish to be made, specifying how and when to proceed with specific treatment plans. Again, this is if you become ill or are unable to act on your own with these decisions.
A Living Trust
There are a few different kinds of trusts, and they all should be considered before you decide to have one or not.
A revocable living trust allows you to organize your assets or property into it, and designate who will be managing those assets. But as it's revocable, you can change these terms at any time until you pass.
An irrevocable living trust is basically what it sounds like. Any assets you've placed into it will be transferred to whomever you've named as your trustee after you pass.
A revocable trust is a bit safer in terms of finality. This way, depending on when you make the trust you can always change it up until the event of incapacity or death, then it will be in the hands of your trustee.
Peace of Mind
Estate planning may sound like a daunting process, but it's important to make sure everything and everyone is covered so you have peace of mind in the end. These documents can help you decide where and who your assets will be left to, so be sure to evaluate how your assets are titled, and that your beneficiary designations are consistent with your plans.